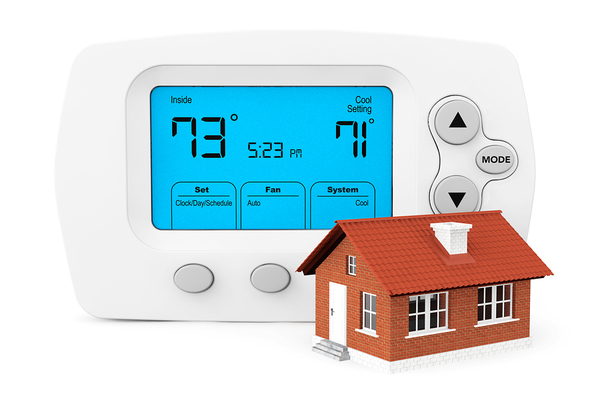 We live in an age where worry about overuse of any appliance is a concern. Excess isn't celebrated the way that it might have been before environmental issues were mainstream. But one area where excess shouldn't be a concern is your air conditioning. You can certainly overload your AC system, especially in a humid Massachusetts summer. But as long as it's appropriate for the home, in good repair and you set it at a reasonable temperature, it shouldn't suffer ill effects.
If your air conditioning seems to be struggling with the summer's heat, something else might be afoot.
Would You Turn Your Refrigerator Down or Off?
Imagine that the weather report for Framingham says the hottest day of the year is on its way. Would you prepare for it by raising the refrigerator thermostat or shutting it off? Of course not. Neither should you worry unnecessarily about your air conditioning as long as it's used sensibly.
AC systems operate the same way as your kitchen fridge. They achieve their chilly temperatures by removing heat from your home. The system's primary components include a condenser, compressor, evaporator and a chemical that changes from gas to liquid to gas as needed.
These work in concert to draw excess heat out of your home, then cool the air that's returned through the ducts. Just like your refrigerator, it's meant to work when you need it as long as it's in good repair.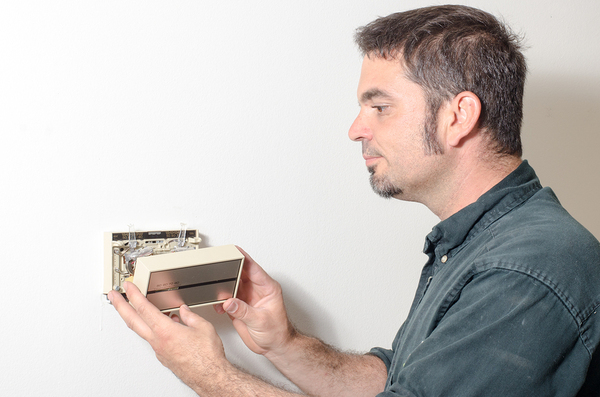 Replacement of an outdated thermostat might correct some problems.
What Causes Overloading Problems
Although it's meant to serve you and your family all summer, there is such as thing as system overload. If the unit is operated at a setting that's unreasonably cold, the system won't keep up. It will work harder than it was intended to, which causes a breakdown of the mechanical components over time. It can even put your home at risk of a fire.
At its heart, overload means that the demand is too great for the air conditioning capabilities. And it's caused by a few things, including a too-cold setting, dirty air filter, wrong-sized unit, poor ventilation, restricted airflow, and many other possibilities. What's considered a too-cold setting is relative and doesn't necessarily mean that the thermostat is set at 60 degrees on a 90-degree day. If the AC isn't healthy or it's the wrong size for your home, overload can happen at a reasonable setting of about 72.
A unit that's too small can't keep with high demand. But a system that's too large has trouble, too. That's because the cycles run too short to effectively cool your entire home. The unit must run through its cooling cycle much more frequently than it should, and still won't operate efficiently. It can also leave your home clammy and damp, even if it's hitting the right temperature because it can't extract enough humidity on a shorter cycle.
Humidity Control is Critical
One of the most important functions of an air conditioning system is humidity extraction. You probably know how a humid day in Concord feels much hotter than one where humidity is lower. That's because low humidity lets your body's normal cooling feature – perspiration – evaporate from your skin. When it's humid, your skin stays damp and you feel hotter. When humidity is low, perspiration evaporates and the temperature feels truer to what it really is.
An air conditioning system that removes enough humidity can make your home feel more comfortable at a higher temperature, which puts less strain on the system. Instead of turning the thermostat down and down again, you can easily leave it set at 72 or even higher and feel even better than a clammy home that's 65 degrees.
That's why the health and size of your air conditioning system are so important. They're designed to cool your home plus extract humidity. If the system is too large, too small, is dirty, can't breathe, or has any other issues that prevent it from operating as it was intended to, system overload occurs.
If your AC bogs down, runs short cycles, uses too much electricity or has any other issues, there's obviously something wrong. You might, indeed, be putting too much strain on the unit. But unless you're trying to turn your home into a giant refrigerator, the real culprit is probably the system.
Regular maintenance, including filter changes, is imperative to air conditioning health. That can't be overstated. Your technician will clean the system, look for leaks in the refrigerant lines and in the ductwork, and generally ensure that it's operating as it should. Maintenance can also tell you whether the system you've got is sized appropriately for your home.
At Rodenheiser, we're experts at HVAC repair and maintenance. We've served homeowners in the Massachusetts Route 495 / 128 area for years, and we're happy to help you turn your home into a real comfort zone. Set up an appointment online today if your AC system seems overloaded. We'll find the problem and put you on the road to comfort again.
Please follow and like us: